Hey guys! I elected *myself* to participate in this book tag 🙂 I realize that I've never participated in tags before, and it's kind of fun to think of answers to them in my head–so why not put them on the page?
1. How many books is too many books in a book series?
That depends on the series, really; JK Rowling wrote a *masterpiece* in the Harry Potter series, and that was 7+ books! For me, I think it comes down to the content and whether or not I feel like it needs to be drawn out. I can't stand when a book is split apart that doesn't need to be–if it's 200 pages each, that could have *easily* been one book and now it's just a cash grab. I really like books that aren't necessarily in a series, but set in the same universe, if that makes sense! Each book just focuses on separate individual or aspect of the universe. Holly Black is very good at that! Also mad respect to her for still making great standalone books too.
2. How do you feel about Cliffhangers?
I think that in this world we live in, with *soooo* many series and sequels, cliffhangers are a necessary evil. The suspense! The Wonder! I have a love/hate relationship with cliffhangers. They're stressful, but at the same time it's a great way to keep me excited/invested in a story. It's that difference between going to sleep on time, or failing to function as a human the morning after a late night 🙂 (Or getting anything else done, really).
("Just oneeee more chapter!)
3. Hardback or Paperback?
I LOVE  hardback books! To me, they are easier to keep nice & they look good on the shelf. Lately though, I've been reading more & more E-books. Since I don't go to the library, I usually buy my books–I'm trying this thing called "quality over quantity" were I read the E-book and if I absolutely love it, I buy a hardback copy. It saves space for the best ones on the shelf!!
4. Favorite Book?
It comes and goes. (Except Harry Potter, because *Always* is the best answer.) Aside from HP though, I would have to say The Darkest Part of the Forest by Holly Black, Fangirl by Rainbow Rowell, or Howl's Moving Castle by Diana Wynn Jones.
5. Least Favorite Book?
Glitter by Aprilynn Pike makes me pretty angry; the main character was narcissistic and completely without emotion for anyone but herself, and I couldn't stand it. I talk about it more in-depth on this post.
6. Love Triangles, Yes or No?
Someone in the story will always get their feelings hurt, which means that *I* in turn will get my feelings hurt, so no. I don't enjoy them. I also feel like it lessens the value of each person's experience, and in some cases, creates the "special snowflake" effect. *cough*Twilight*cough*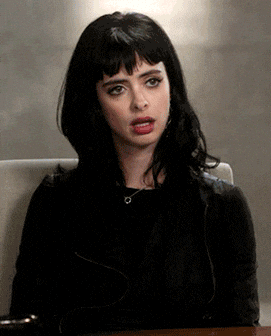 7. The Most Recent Book You Just Couldn't Finish
Amy Tan's Valley of Amazement; I don't know why, but I had a really hard time with that one. I DNF'd it back at the beginning of summer–I loved the other books I've read by her, but this one was not my cup of tea.
8. A Book You're Currently Reading
Right now, I'm reading a few–so far I love them all so much!
The Name of the Wind by Patrick Rothfuss
Red Winter trilogy by Annette Marie
9. Last Book You Recommended to Someone
You'll Miss Me When I'm Gone by Rachel Lynn Solomon was a complete Dark Horse for me; I stumbled on a retweet from the author about it being on sale, so I scooped it up on iBooks for $2.99 and BOY I was not disappointed. It was so good–it pulled me apart and quietly put me back together again. I would recommend that to anyone looking for something new and different to read.
10. Oldest Thing You've Read (Publication Date)
uhh…does it count if I read it for a class? The oldest things I've read (and enjoyed) are Mary Shelley's Frankenstein, anything by Jane Austin, Shakespeare, or Charles Dickens.
11. Newest Book You've Read (Publication Date)
The Hazel Wood by Melissa Albert, or You'll Miss Me When I'm Gone by Rachel Lynn Solomon.
12. Favorite Author?
J.K Rowling, Holly Black and Rainbow Rowell ❤ (No, I can't choose just one. That's impossible!)
13. Buying Books or Borrowing Books?
I prefer to buy mine! It makes me nervous to borrow from friends, and I never have time to go to the library. Maybe once I leave my second job I'll give it a shot!
14. A Book You Dislike That Everyone Seems to Love?
Eliza and Her Monsters. I disliked that one so much–the relationship between her and Wes was so unhealthy (more specifically, something he did later on), and Eliza was a jerk more often than not. There was a lot of problematic behavior. And yes, I *understand* the important representation of depression in the story–I related to a few of her struggles. But I just can't get over the mentality that all of her mistakes/bad things that happen in her life are the result of someone else–the mental blame game. She blamed everyone else for her problems. I'll talk more about my feelings in another post…next question please!
15. Bookmarks or Dog-Ears?
I'll take crumpled CVS receipts for 500, Alex!
16. A Book You can Always Re-Read
Harry Potter is number one, but pretty much anything on my favorite books list above!
17. Can You Read While Hearing Music?
Unless I'm reading subtitles on the TV…nope!
18. One POV or Multiple POV's?
I think that books with multiple POV's can go really well or horribly wrong, and when they go horribly wrong sometimes it's hard for me to tell because I feel like maybe I'm just not understanding it. So, while I enjoy that multiple POV's help you see ever side of the story, I like on POV better. Also, I don't like when the multiple POV pulls you away from something big happening to one character. (That's the kind of cliffhanger I *don't* like. I'm looking at  you, George R.R. Martin.)
19. Do You Read a Book in One Sitting, or Multiple Sittings?
That honestly depends on the book, but most days it will take me more than one since I never seem to have time to read consecutively.
20. Who do you Tag?
Everyone!! (Seriously, I want to see them.)
As always, thanks for reading! I hope to have some posts with a bit more content in the upcoming months.
Lux