A bigger goal of mine these last few months has been to pare down the amount of physical books that I own. In the past, I filled my space with books that I intended to read, but would never get around to. My personal library was full of books that I either didn't read, or simply didn't enjoy. Every time I looked at it, I would feel the guilt and stress of wasted money and unfulfilled "good intentions."
With all of this in mind, I came up with the solution "try before you (physically) buy." My idea was pretty simple: Buy the eBook edition of anything I wanted to read, and if I liked it, maybe invest in a physical copy somewhere down the line. Otherwise, my books would live happily on my phone–out of sight, out of mind!
It was in this way that I discovered: I absolutely love the convenience of eBooks. As I am someone who does most of my reading over my lunch break at work, and occasionally the local coffee shop, it is nice not to have to carry a physical copy of what I'm reading around with me. It's perfect! I'm saving time, space and money, right??
Except, eBooks are not as cheap as I thought they were, and I ended up completely ignoring the "saving money" portion of my goal. In fact, went in the totally opposite direction by essentially allowing myself to purchase the same book twice 🙂 (Seriously, how is that a good plan? I guess I'll always be a Collector at heart…) In the end, I was still spending money and eating up space!
I switched gears (again) and decided to shift my focus to monthly subscription reading apps. To me, this is the ultimate "best way" for my preferences–for a set monthly price, you have access to so much more! After a few weeks of trying out different apps like Amazon's Kindle Unlimited & Audible, I stumbled across Scribd and haven't looked back since.
For $10.99/ per month, you are granted access to the massive Scribd online library of eBooks and Audiobooks. As long as I am reading at least two books a month, I end up saving more money than I would buying the titles outright–and there are so many great options to choose from! There are tons of new releases, both in YA and Adult Fiction that aren't available on other platforms. The list below is just the tip of the iceberg, as far as I am concerned!
Without futher ado, here are my Top Five Books on my Scribd TBR:
Priory of the Orange Tree by Samantha Shannon
I've been waiting months for this to come available on Scribd, and I was beyond thrilled to finally see it on the list. It is an absolute brick of a book, coming in at about 827 pages filled with political intrigue, magic, epic fight scenes (probably) and a wonderful, sweeping romance (I hope).
So basically, the perfect sort of fantasy that you can lose yourself in for hours at a time. (But also I'm more projecting what I think the story will be because I haven't read any reviews or a coherent synopsis and I intend to keep it that way).
The Night Tiger by Yangsze Choo
I finished up her debut novel, The Ghost Bride, late last month with the intention of watching the new Netflix series–and what a stunning novel it was. After seeing the beautiful, tropical & vibrant early 1900's-era Malaysia painted with her words, I am all too excited to see more.
Another vibrant Malaysian tale set in the 1930's, The Night Tiger is set up to be a grand adventure shrouded in mystery & Chinese mythology. After all of the unexpected twists and turns in Ghost Bride, I am very much looking forward to this one.
Slay by Brittney Morris
I'm trying not to do that thing were I basically type out the same sentence for each book, but just look at this! Isn't beautiful? Isn't it lovely? Isn't it revolutionary?! I've never read anything by this author before, but I am confident from the synopsis alone that I am going to love and respect this work.
Growing up, stories like these ones–living out another life in an online fantasy world, one in which you find & solve the last missing piece of the puzzle, thereby Becoming the Hero–were spaces reserved only for boys. Here's to hoping this one will change the game, and open up opportunities for more empowered young women (especially young women of color) in fiction!
As You Wish by Cary Elwes
The Princess Bride will always, always hold a special place in my heart. It is a love story for the ages–complete with daring sword fights, dastardly princes, R.O.U.S's, & complete/utter character redemption.
As such, when I'd heard that Cary Elwes was finally putting together a behind-the-scenes look at it all, I was thrilled!
….and then I never picked it up. So, now that it is available on Scribd I am going to devour it. 🙂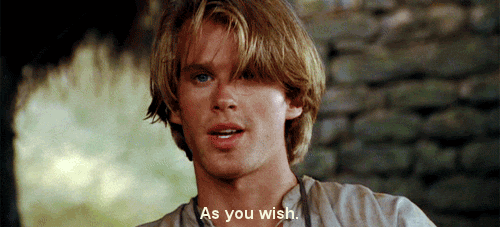 Our Year of Maybe by Rachel Lynn Solomon
I read Rachel's previous work, You'll Miss Me When I'm Gone, and simply loved it. I am looking forward to another emotionally-charged read, though it has taken me quite some time to get around to this one.
Due to personal experiences in my life, literature that deals with illness is a touchy subject for me–but I think her writing has really helped me come a bit further with that. I am hoping that this one will be no different, and though I haven't picked it up yet, it's really giving me some "Your Lie in April" vibes!
Honorable Mentions
The works mentioned above are definitely my Top Five, however there are so many more available on the app that I am excited for, too! Both of Jenny Han's popular series are on there–To All the Boys I've Loved Before, as well as The Summer I Turned Pretty. If you've never had the chance to read her, now is the perfect opportunity! Their Contemporary YA library is second to none, offering other fresh titles like With the Fire on High, This Time Will Be Different, and The Opposite of Always, to name just a few!
If you're more of a Fantasy reader, they've got you covered there. Some of the others I'm really anticipating are The Storm Crow, Shadow of the Fox, Sorcery of Thorns, and City of Brass.
So, there you have it!
There are so many books that I can only hope to talk about someday, but I think here is a great place to start!
What are some titles that you're looking forward to? As always, thanks for taking the time to read my post! Until next time.
–Lux