Happy February, everyone! I hope the New Year is treating you well. Today I'm here to talk about all the beautiful things I've picked up recently! I believe the majority of them came through in January, but there are a few February stragglers in there (because I'm lazy and didn't think to post at the *end* of January…)
I'm not feeling a big intro today, so let's jump right in!
**Disclaimer** I download a lot of my books onto my phone now, as that allows me to still support the author and to save space in my home 🙂
Books
Jackie Chan's new autobiography, Never Grow Up
I don't know what I was expecting when I picked up this book, but I definitely loved hearing about all of his adventures in the film industry and beyond. Jackie is a bit different than I imagined him, but I am A-okay with that. Solid 4 out of 5 stars!
Fresh off the Boat by Eddie Huang
I'm clearly in a memoir kind of mood this month and this book was an *experience*. I have a LOT of feelings about this one, so I'll wait to discuss at-length…maybe I'll write a post about it, but I'm sort of bad at that. He's certainly no role model (which is again, A-okay with me. I don't know why everyone expects celebrities to be in their best behavior or held to higher standards like they're not a normal human being…come on guys). It has pretty mixed reviews on Goodreads, but I think because I read this *now*, when it's more common to talk about racial inequality etc, it was a very poignant read and I would recommend it. 3.5/5 stars!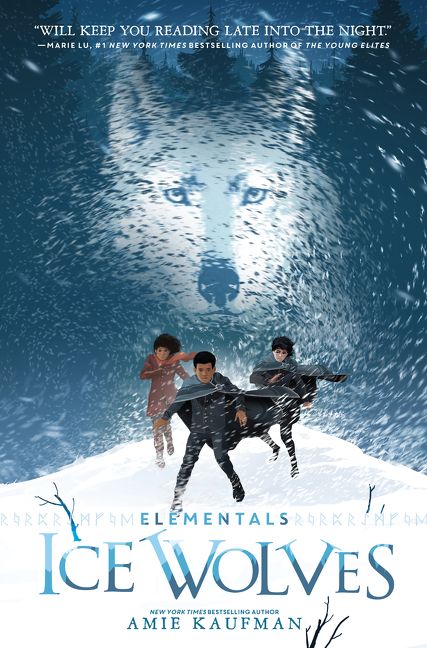 Elementals: Ice Wolves by Amie Kaufman
My favorite age to look back on would be between 9-14 years old; Everything was so magical, and every book that I read just seemed to be SO COOL. That being said, I'm surprised that I haven't picked up another JA fiction before now. Well, this one was a great place to start! I loved the world building, and the sibling relationship between the two main characters. I love seeing things from Anders' point of view–I found him to be an extremely relatable character; I loved the imagery, and the magic system. It was so unique to me! I can't wait go grab the next title, out in March of 2019. 4 out of 5 stars!
A Thousand Beginnings and Endings, Edited by Ellen Oh & Elsie Chapman
This is the only book that I purchased in physical format…and of course I haven't read it yet. It is a retelling of various folklore/mythology of East and South Asia, from different acclaimed authors. I can't wait to dive in–I intend to give this book all of the love and appreciation that it deserves.
Spinning Silver, by Naomi Novik (February)
This book….THIS BOOK. I loved it SO MUCH MORE than Uprooted, and I'm so glad to say that. She always paints beautiful imagery/atmosphere, and this woman could honestly make a living in writing horror alone, if she wanted to; she's very good with suspense. My one gripe with her would have to be her characters, as they can come off one-dimensional or cliched. BUT. This book was a VAST IMPROVEMENT (In my eyes, of course. She's an accomplished writer to begin with). This one WILL be getting a post all on its own, I can promise you that. Please look for a review, hopefully in the next week! 4 out of 5 Stars!
This Savage Song by Victoria Schwab (February)
Victoria recently posted on her Twitter–this book was on sale for $1.99 on Kindle/iBooks, so I JUMPED on that deal. I haven't read it yet, and it's already been on my TBR for so long that I just had to buy it on impulse.
Those are all the books I bought in the last month (or so)!
What books are you guys hauling right about now? Are there any new books you're looking forward to this year?
As always, thanks for taking the time to read my posts. I really makes my day 🙂
-Lux