Hey guys! It's been a minute since I've done this type of post, so I'm ready for a bit of an update 🙂 Lately, more than anything, I've been doing SO much reading, and that makes me happy. Back in March, I decided to join in on Goodreads and that has helped me so much! I feel like I've regained my passion for books and good stories. Lately it's been really hard for me to find the time to do anything creative, because of work and many other things (That will be coming in my next life update post!) For now, let's get on with the show!
Currently Playing
This space is sadly lacking for the last few months; I simply haven't had the time to really engage in anything, and that makes me sad. BUT, I have found some pretty cool mobile games that I've been trying out!
Pokemon Shuffle
This one I've actually been playing for quite a while; it's fun, simple, and rewarding! It's a puzzle game, the likes of which we have all seen before–you match the Pokemon together to make them "disappear", attack, and win the game!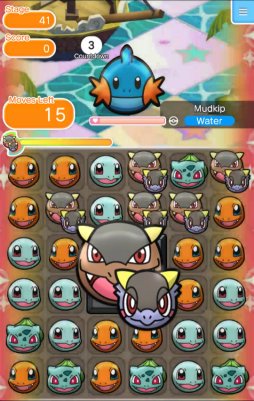 You battle a different Pokemon each time, and every time you win, you get a chance to "catch" that Pokemon if you haven't already. It's a good time to play if you need a brain stimulant every once in a while 🙂 Plus it's really fun, and cute as well.
If you play, Add me! My friend code is:
ZBNJ-FAQE
Currently Watching
Dark Tourist on Netflix
This is a docu-series in which you follow the adventures of a chronically uncomfortable New Zealander to "unconventional" vacation spots. (Of course, when they say "uncomfortable" they mean eerie and macabre.)
(I mean, just look at that face).
"Dark Tourists" are people who forgo sandy beaches and soothing resorts, & instead choose to vacation in less desirable destinations such as nuclear sites, murder houses, and haunted places (Just to name a few).
This show is incredibly interesting, dark, and (yes) educational. Here, he talks about the ugly side of history, and how it impacts our society today. It's fascinating, really–I tend to be drawn to darker stories to begin with. I've only seen a few episodes so far, but I've enjoyed every one of them. It's been a minute since I left school, so it's nice to continue learning in one small way or another 🙂
Currently Reading
Your Lie in April
I mentioned watching the anime a while back in a post just like this one–after watching, I definitely wanted to give the books a try. I am so glad that I did.
This broke my heart into pieces, and quietly put it all back together. It's a cruel lesson in humanity, and love, and growth. If you're feeling depressed, or unmotivated, or afraid, read this. The writing was superb, and the characters were all lovable in their own way.
I've watched the anime before, and to all those who say that it's "better" because you can actually hear the music–I urge you to give it another chance. As with most book-to-media translations, I think the books go more in-depth; however it's in much more subtle ways. I better understand the motives of the characters, and the depth of their feelings. It's all in the writing and the emotions which-my God-Naoshi does so well. The art was beautiful and just as expressive, if not more, than the writing. This is an important story that will stay with me for a very long time.
I've read so many other books in the last few months, too many to talk about at once! Your Lie in April is the one that's impacted me the most lately, so I wanted to talk about that.
Sorry guys, I know it's not much–life has just been too crazy for me to sit down and enjoy a thing! But I'll get more into that in my next post. I hope you've all been well!
Tell me about what you're reading, watching or playing! Or heck, even just something you've found that you're really excited about! I want to hear about it. 
Thank you so much of taking the time to read my posts! Until next time.
–Lux